Stained glass has thousand-year history as material for windowsdecorating, wall panels, pictures, sculptures and other art items.
There are thousands kinds of stained glass with different colours and textures. Several glasses can be inserted into the frame and be seen as painting picture.





Main types of glass are Opalescent and Cathedral.
Opalescent glass reflects as well as refracts light. Glass that is not transparent, although some may contain relatively transparent areas.
Cathedral glass is clear glass, often of a single colour and can see through. The name comes its resemblance to glass used in traditional church windows.




Stained glass works in the clockmaking world do not occur very often. Correcting this fact, we create clocks which have all advantages of stained glass. In our assortment are wall and table interior clocks, classic and contemporary mantel clocks, sundials, hourglass and gift timepieces. A wide selection of art color glass allows creating products in a various color palette. All our items are unique, because are handmade with different art glass combinations and traditional techniques: Tiffany, fusing, slumping and sandblasting.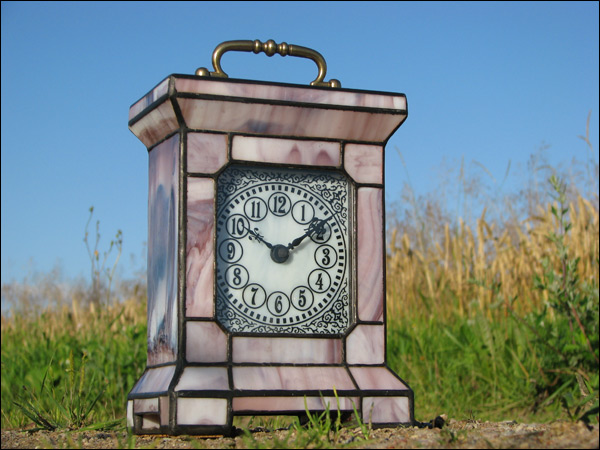 Stained glass clocks - unique combination of design and function.
Stained glass items attract the eye, stained glass clock make it a more meaningful and informational.





Usual or traditional clocks create comfort in the home and business climate in the office.
Stained glass clock make it unique and exclusive.




Clock is hand crafted and not mass produced. Each clock case is unique, because was made of stained and art glass with different colour and texture.


Each model can be easily installed at home, office and public spaces.
Models available in a variety of glass colors and factures. We can choose color of the glass to the existing interior.




Stained glass clocks was ideal as wedding, anniversary, corporate or housewarming gifts.


Each model can be made in various sizes per request.




Clock are designed at classic or contemporary form basis and made in limited edition.


If you can't find model that your are looking for, you can send us required picture or drawing.
It is possible to create model especially for you.




We use Tiffany technique - stained glass traditional method of cutting colored glass and joining together with soldering.
This copper foil technique was invented in the 19th century by Louis Comfort Tiffany.





For finishing seams used polishing, patina and antioxidant that make seams better and protects it's from humidity.